Company: BC Rails
I had an interview with Ben Churchill owner of BC Rails about his newly opened Rail company.
What were your motivations in starting BC?
Well not really any, except seeing the old Primo rails. I was pretty pissed that primo had closed so I decided ehh, I need to stop complaining and do it myself. So I started making rails.
I noticed that you have done some events to get your company out to the public, for example, the tryout and the rail giveaway. I really think that's a great approach to take. So anyways, you've got a great looking team lined up, can you describe the members for me?
Well I like my people to keep a low profile (that can help me stay in line with others.) Anyway I will do some individuals I guess.
Tim Hurley, wow. He is an all around guy and I told him from day one that if I started a company, he could come along for the ride. Kyle Seis. Creative, underated, and super fun to talk to and stuff. He is super tech and stylish with his minis. Taylor R, what can I say. Win for the FFI Rail Jam shows his dedication. Devin can be super sick to. Great style, and some nice tricks. Garrison is the new kid on the block. You wouldn't expect to see some of the stuff he pulls off. He is a sick rider and really gave the others a run for their money during tryouts.
Where would you like to see BC in the future? Any specific plans?
Not really. I will go where BC pulls me. If shit happens, it happens. I can say that I would like to work my way to the top and become one of the best rail companies out there. Yeah, I set my goals pretty high.
Can you describe some of the products you are planning on selling?
Round Kink rails for TD 8 stairs, wrestling rails (hopefully), Round rails, Flat Bars, Up rails, U rails, Polejams. And whatever my customers want to see!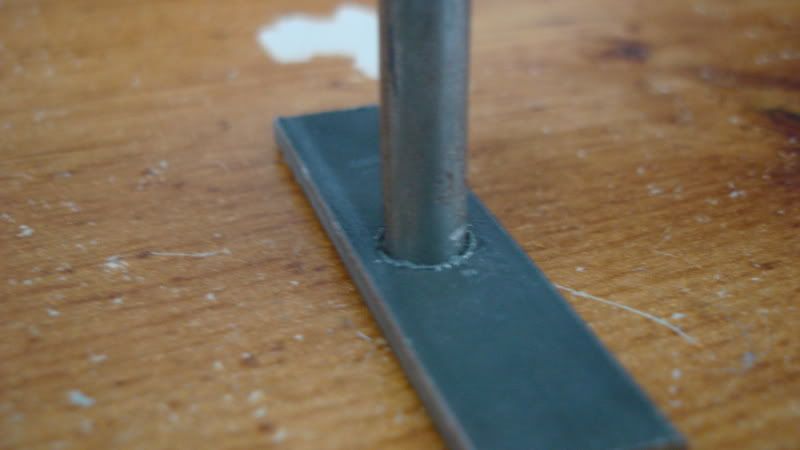 Through talking with Ben, I could see that he was dedicated to making his rails as perfect as possible. Every picture he showed me that I thought were perfect, he would point out some improvements that he was going to try and make. This attention to detail and strive to improve is what you can expect from BC Rails. To the right is a picture of the foot of the rail connected to the base by epoxy. As you can tell, its very clean.
Labels: BC Rails, Ben Churchill, company